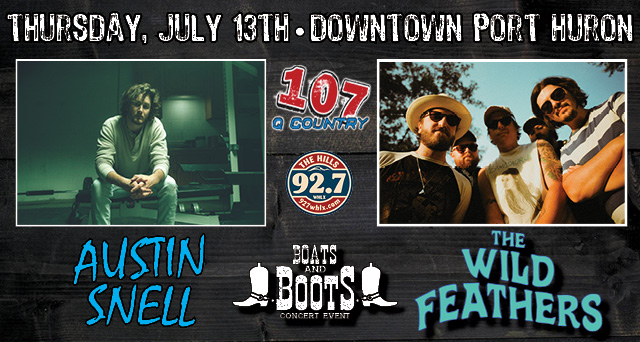 Boat Week this year will be bigger and better than ever with both Austin Snell and then The Wild Feathers peforming on Thursday, July 13th, Family Night!
Austin Snell is an up-and-coming 'grunge country' artist, fusing sounds together you'll hear nowhere else! With songs like 'Excuse the Mess', 'Wasting All These Tears' and 'Get There First', Austin Snell is bringing a new sound to country music that he's bringing to the Zeeb Lot for you to enjoy!  
The Wild Feathers are bringing the country and American fused music to the Blue Water Area on Family Night as well! With their hits like 'Big Sky', 'The Ceiling', and 'Left My Woman', Family Night is bound to be a party with The Wild Feathers! 
For tickets to see both Austin Snell and The Wild Feathers, click HERE! 
Brought to you by: